Since the privatization of the Vranje factory, ten years ago, we have invested in Serbia more than 200 million EUR, out of which 115 million EUR were invested in the purchase and modernization of the factory. Nowdays, we contribute, on average, 100 million EUR annualy into the Serbian budget. In addition, in the past ten years, BAT realised numerous CSR projects and invested more than one million EUR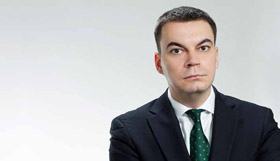 In October, we will mark a very important anniversary, it will be ten years since the privatisation of Duvanska industrija Vranje by British American Tobacco (BAT). BAT represents the world`s most international tobacco company with operations in more than 180 countries. The company employs more than 56 000 people and owns 44 factories in 39 countries. Over the past year, BAT has sold nearly 700 billion cigarettes and contributed with more than 32 billion UK pounds to the budgets of the countries where it operates. The company has been present in Serbia for 17 years, while the major milestone during this period is the acquisition of Duvanska industrija Vranje in 2003. With that privatisation, BAT became the biggest British investor in the country.
In this anniversary year for BAT in Serbia, we spoke to Srdjan Lazovic, Head of Corporate and Regulatory Affairs for CEFTA Region British American Tobacco South-East Europe, about the experiences of the last decade, as well as the business environment and the future plans in Serbia.
• This is a very special year for BAT – this autumn marks ten years since BAT bought Duvanska industrija Vranje. What are your experiences on the Serbian market?
– We started way back in 1996 as a representative office, but the major milestone in the course of this whole period is definitely the aquisition of Duvanska industrija Vranje in 2003. With that aquisition, the company became one of the leading foreign investors and, at the same time, the biggest Uk investor in Serbia. The Serbian market holds a very significant position in our business operations in South East Europe. That is the reason why the decision was made to aquire the Vranje factory. So far, the experiences in Serbia have been mixed.
Read more in print edition