We have already sold ten thousand overnight stays for the period from January to May next year and another 18 thousand overnight stays from June to December 2014. We have booked congresses, symposiums, fairs, all thanks to the brand. However, there are many components and all standards of the Intercontinental group are to be fulfilled in order to open such a hotel. The opening of Crowne Plaza Belgrade is planned for 15th December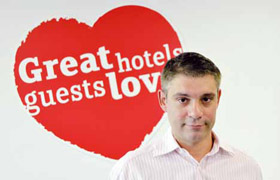 I believe that Crowne Plaza will be the absolute leader in the hotel industry, since we have the best location, a completely new product, the biggest hotel in the region. We have varied hotel activities and therefore we can host conferences and sport teams, as well as tourists. We have received all "tools" from the Intercontinental group, the biggest world hotel group, and the only thing we need to do is fit them in and use them in the right way, and the additional advantage is that it is well known that the Serbs are cordial and hospitable people. The Group expects Crowne Plaza as a brand to be revolutionized by this hotel and for Belgrade to set a new standard for all future hotels being renovated within the IHG Group.
This is how Živorad Vasić, general manager of Crowne Plaza Belgrade hotel, assesses the future results of this world known hotel brand which is in the final stages of the renovation of the former Intercontinental hotel in Belgrade. In the interview for Magazin Biznis, he explains the procedure of preparation for the official opening of the hotel. Over 32,000 square meters of Belgrade Crowne Plaza must be thoroughly prepared and only then may the first guest enter it.
– The most important thing for Belgrade Crowne Plaza is the fact that this is the first management hotel in Serbia being opened after 26 years. This means that in that period only franchises were opened in Belgrade – Holiday In, Metropol. Crowne Plaza is an authentic management hotel containing the "know-how"of the Intercontinental group. When you have thousands of hotels throughout the world, they function in the same way, whether it is Dubai, Paris, or Belgrade– Vasić says.
Read more in print edition